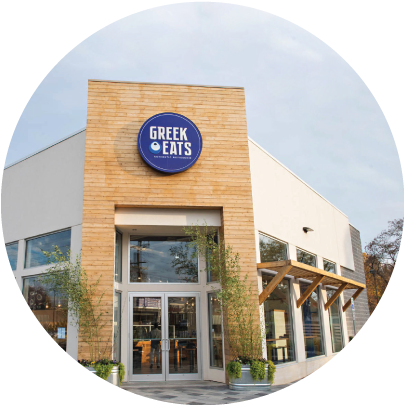 Our Story
It started with a passion for the culture and cuisine of the Mediterranean. We thought long and hard about what our customers would want: the freshest responsibly raised ingredients, skillfully prepared with classic culinary techniques and a little American creativity, heightened with traditional Mediterranean spices and flavors. All that with efficient, friendly service and a comfortable atmosphere.
We are serious about our ingredients. All our meats are locally sourced and responsibly raised. Our olive oil, olives, feta and many Greek ingredients are imported directly from the motherland.
GO GREEN EATS!
From our 100% compostable packaging, utensils, napkins and cups to our reclaimed wood décor - we're committed to leaving the smallest possible footprint while delivering the healthiest, tastiest food around.
The Greek Eats philosophy is simple - use family recipes to make real food, with integrity, taste and freshness. We honor our Greek heritage and take joy in bringing our favorite foods to you. Welcome to our family.